Bitcoin's price has returned to the $26,000 level today in early morning trading hours on March 17, which is only a hair below its all-time high for the year.
The recent decline in crypto markets was brought on by the insolvency of two major banks involved in the bitcoin business. It didn't help that these establishments went bankrupt and joined the others.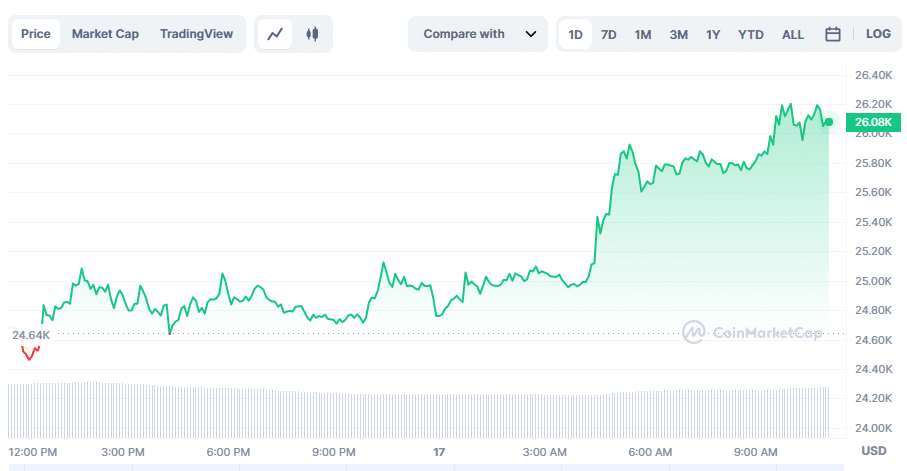 Bitcoin is benefiting from the SVB saga
BTC, trading at $26,089 as of writing, was 5.7 % up within 24 hours, giving weight to the recent word that investors prefer bitcoin over banks amid what was witnessed with banks.
Bitcoins market cap also increased by over 5%.
This also comes as bitcoin dominance, as of March 16, reclaimed its June 2022 high as other cryptocurrencies plunged amid SVB's demises. 
In a recent CNBC interview, Mike Novogratz made similar remarks commenting that BTC was about to rally as more Investors were more likely to opt for the asset amid seeing the vulnerabilities attributed to banks.
A shortage of money and pressure from regulatory authorities have led to Silicon Valley Bank's and Silvergate Bank's insolvency, two of the most prominent financial backers of bitcoin firms. As a result, bitcoin price dropped to under $24,000, and the cryptocurrency markets as a whole went into a tailspin.
But, despite this setback, bitcoin has rapidly recovered and is trading at $26,000 once again. Some observers think this is because of the general strength of the cryptocurrency market, which has witnessed a spike in interest from institutional investors in recent months. This interest has been on the rise in recent months.