Bitcoin (BTC) has closed the month of February flat following a period of massive fluctuations, which saw the asset plummet to a low of $21,351 before staging a comeback to an 8-month high of $25,250. A subsequent correction saw the asset drop from the $25,250 top to $23,141, at which it ended the month.
Bitcoin's middling February close follows the asset's bullish 39.79% end to January. Numerous developments within the crypto scene and the prevailing macroeconomic climate impacted the asset's February performance. 
Having begun February with an opening price of $23,125, BTC declined by 7.6% in nearly two weeks, as it dropped to $21,351 on Feb. 13, its lowest point for the month. Bitcoin's gradual decline came after the Federal Reserve announced a 25 bps rate hike on Feb. 1. The BTC fall also coincided with the U.S. jobs report.
The asset's most significant intraday loss occurred eight days after the FOMC announcement, as the crypto markets faced a downturn. Bitcoin closed on Feb. 9 with a massive 5.08% decline, marking its most significant daily drop this year. As the asset dropped to $23,600 on Feb. 13, whale transactions hit a 3-month-high, suggesting a growing accumulation trend.
Following the Feb. 13 low, bitcoin staged a solo comeback against the bears, leveraging the prevailing accumulation campaign. Most altcoins failed to jump on this rally, as they remained in a downtrend, leading to an increase in bitcoin's market dominance. Bitcoin registered its biggest intraday gain this year shortly after, surging by 9.57% on Feb. 15.
Consequently, the asset faced another correction which became more prevalent following the FOMC meeting minutes released on Feb. 22. The minutes revealed that most participants agreed to another 25 bps hike. The prevailing correction persisted until the asset closed the month at the $23,141.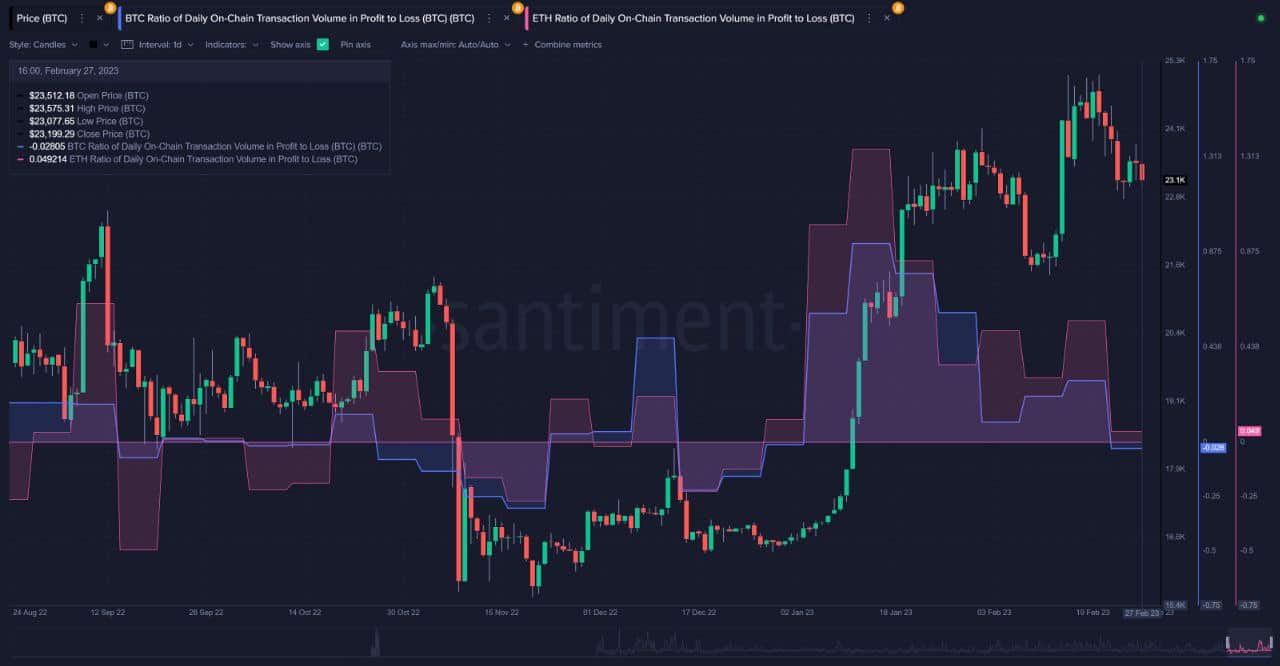 Moreover, bitcoin's ratio of daily on-chain transaction volume in profit to loss for February discloses a prevalence of BTC transactions in profit for February. However, this pattern reversed, as the ratio dropped to -0.028 in the latter part of the month.