[ad_1]

Bitcoin (BTC) surged almost 10% in the recent 24 hours, crossing a critical threshold of $24,000. The move comes as the US president has addressed the bank system's stability.
The latest series of bank collapses in the US has triggered a market-wide FUD (fear, uncertainty and doubt) among crypto investors. This caused a massive drop in cryptocurrencies' prices, including bitcoin (BTC).
The flagship digital currency, however, witnessed a quick recovery alongside the global crypto market capitalization. 
Bitcoin is up by over 9% in the past 24 hours and trading above $24,300 at the time of writing per crypto.news data. BTC's total market cap reached the $471 billion mark again, with a 43.7% dominance.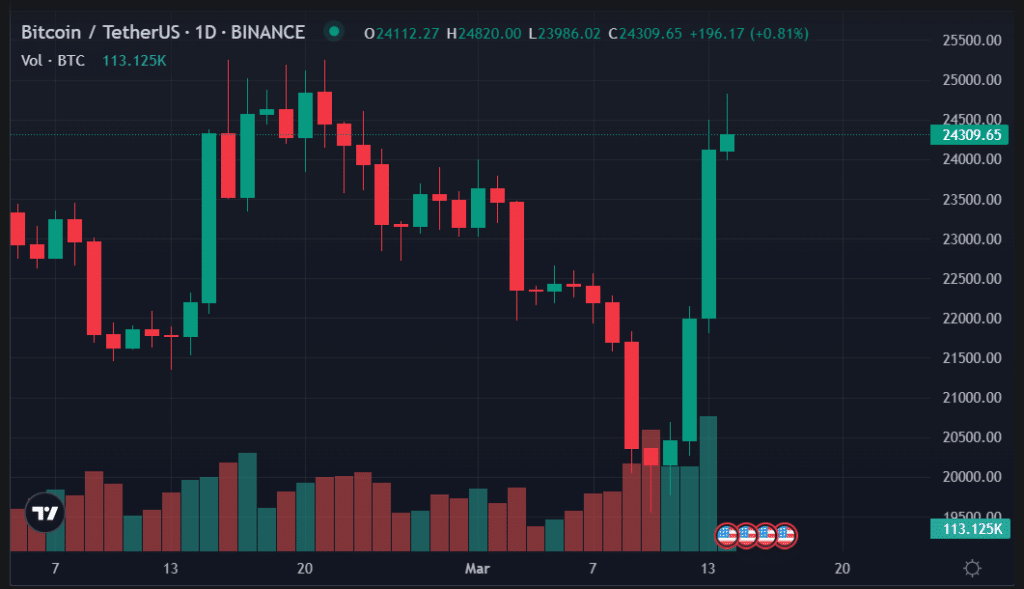 On March 10, bitcoin dropped to around $19,500 as the global crypto market cap plunged from $1 trillion to roughly $912 billion in less than 24 hours. 
Moreover, Jake Chervinsky, the chief policy officer (CPO) of the Blockchain Association, stated that the crypto industry is not responsible for the recent US bank collapses. He called the situation "scary" as three high-profile financial firms in the US went bankrupt over the past two weeks.
As BTC gained bullish momentum, the daily exchange inflow for the top two cryptocurrencies rose. According to the on-chain data provider Glassnode, over $1.9 billion worth of bitcoin has entered exchanges, while $1.4 billion worth of the asset left the platforms, showing a positive $547.4 million flow. 
The second-largest cryptocurrency, ethereum (ETH), also witnessed a positive $50.6 million flow to exchanges with a roughly $1 billion inflow. 
Tether (USDT), however, saw a negative flow of $226.9 million from the exchanges. Per the data, $1.5 billion worth of USDT was deposited to the platforms, while around $1.7 billion worth of the largest stablecoin was withdrawn from the exchanges.
[ad_2]