[ad_1]

On-chain data shows that bitcoin (BTC) has been flowing to centralized cryptocurrency exchanges at an impressive rate amid the recent market chaos.
Data provided by Glassnode shows that the net transfer value of BTC to exchanges just reached $547.6 million. This is the highest positive BTC inflow to centralized crypto exchanges since May 10, 2022 — when $936 million more flowed into crypto exchanges than out of them.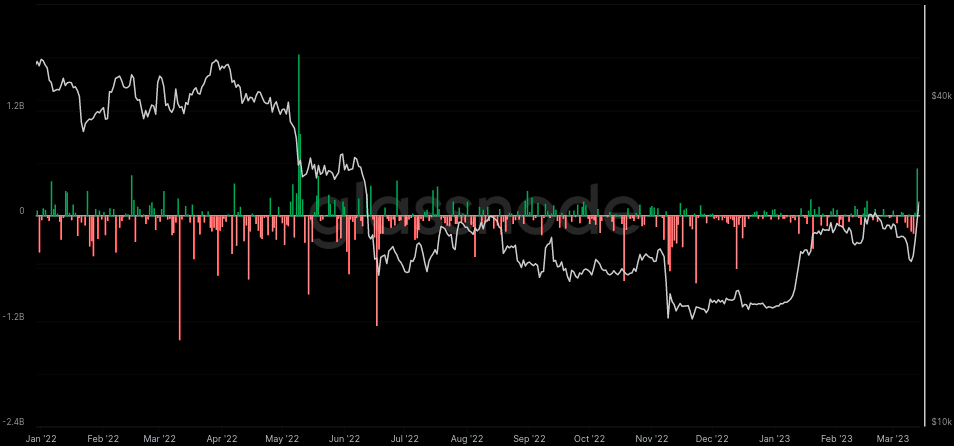 This notable increase in bitcoin inflows to centralized cryptocurrency exchanges is often considered a bearish sign in the market. The reasoning behind this is fairly straightforward – when investors and traders deposit large amounts of BTC into exchanges, it typically indicates a growing intent to sell their holdings.
The behavior is usually driven by various factors such as market sentiment, fear of regulatory crackdowns, macroeconomic developments, or even simple profit-taking. A surge in selling pressure can result in a sharp decline in the value of bitcoin, as it saturates the market with excess supply.
With a downward price movement, a cascade of liquidations can be triggered, particularly for those with leveraged long positions, further exacerbating the bearish sentiment. As more traders attempt to cut their losses and exit their positions, the selling pressure intensifies, potentially leading to a prolonged downtrend.
It is crucial to note that while a significant inflow of bitcoin to exchanges can be an indicator of bearish market sentiment, it is not a guaranteed predictor of a market downturn.
The cryptocurrency market is notoriously volatile and unpredictable, with numerous factors contributing to price movements. As such, it is essential for investors to conduct thorough due diligence and consider multiple data points when making investment decisions.
Another factor to consider is that the inflow of bitcoin to exchanges might not only be driven by a desire to sell but also by investors looking to diversify their portfolio or participate in other activities on these platforms, such as staking, lending, or trading other cryptocurrencies.
In these cases, the inflow could have a neutral or even bullish effect on the market, depending on how investors choose to allocate their assets.
As of press time bitcoin is trading at $25,000 after seeing a 5% increase over the last 24 hours. This may be largely attributable to the market relaxing after US authorities announced that the deposits held on recently-collapsed bank Silicon Valley Bank will be guaranteed.
Silicon Valley Bank held a significant portion of the backing of major stablecoin USD Coin (USDC) and other crypto firms.
The fallout resulted in major turmoil in the crypto space. Ethereum (ETH) co-founder Vitalik Buterin saw an opportunity in the turmoil with blockchain data showing that he acquired hundreds of thousands of USDC when it was trading at a discount.
[ad_2]