[ad_1]

OKB has been under selling pressure, but it isn't just trading along with the rest of the market. There are reasons for its fall.
The cryptocurrency rollercoaster has shown no signs of slowing down as the market trades in red and the global market cap has declined to $1 trillion level.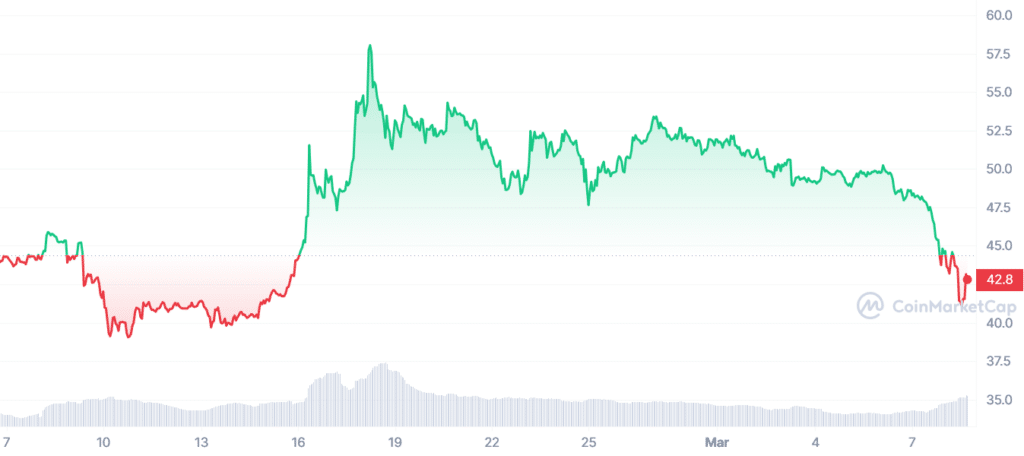 Similarly, OKX's native token, OKB, hit an all-time high of $58.46 on Feb. 18. Still, since then, it's been all downhill, with the token dropping to $41.61 as of March 6. That's a stomach-churning decline of over 28%.
Is regulatory uncertainty, broader market volatility, or something else causing the decline? And what does this mean for the future of OKX and the wider crypto market?
This article will take you on a thrilling ride as we peel back the layers of OKB's recent downturn.
Inconsistent circulating supply figure
One of the major concerns surrounding OKB is the uncertainty surrounding its market cap due to conflicting reports of its circulating supply. 
As per CoinGecko, OKB's circulating supply is 246.6 million, while CoinMarketCap reports it as just 60 million. 
This discrepancy had created an imbalance in market values, making it difficult for investors to make informed decisions about the value of their holdings, thus the volatility.
Moreover, a recent investigation into the mechanics of OKX's token raises concerns about the validity of OKB's circulating supply. 
Approximately 220 million OKB were transferred from an OKX hot wallet to tens of thousands of Ethereum addresses that have never seen any transactions except to receive OKB. 
This supply amounts to almost 90% of OKB's claimed circulating supply and has been labeled as "dormant." OKB's true circulating supply and market cap would be vastly inflated if this supply is not considered circulating.
Poor open interest to asset ratio
The OKX exchange is currently holding $7.97 billion in assets and $3.30 billion in open interest, causing concern over the exchange's liquidity.
A high ratio of assets to open interest can be seen as a positive sign of liquidity. It suggests the exchange has a large pool of assets available to fulfill potential trades. 
Given the comparatively low ratio of assets to open interest on OKX, traders may be wary of the exchange's liquidity and opt to trade on platforms with a higher ratio. 
Conversely, a low ratio can indicate that the exchange may struggle to meet the demand for trading, as it has a comparatively small pool of assets relative to outstanding derivative contracts.
In the case of the OKX exchange, the ratio of assets to open interest is a little more than two to one, while Binance has a ratio of more than eight to one.
The road ahead
Given the potential implications for circulating supply ambiguity, open interest issues, and price volatility, investors should remain vigilant and closely watch any further developments with OKX.
Despite these issues, some analysts remain optimistic about the prospects of the OKB token, with CoinCodex predicting that it will reach $53.94 by March 20. While such predictions should always be taken with a grain of salt, they suggest that OKX may still have a bright future.
[ad_2]