[ad_1]

Blur, an NFT marketplace, is leading in market share of Ethereum-based NFT transactions. At least 84% of transfers during the first week of March took place on Blur, surpassing February's high of 68%.
Blur reached new heights in February 2023 after it launched its native token, Blur, enticing new users with airdrops, token incentives, and cheap trading fees.
According to data from CoinGecko, the token generated over $1.1 billion in volume in the first 24 hours following its introduction. In the same month, Blur announced the release of $300 million in BLUR tokens to its loyal users.
According to the platform's tweet, users would be awarded based on their loyalty scores calculated from their interactions with the virtual marketplace. Blur issued the airdrop as BLUR tokens in their 'season 2', which is already in progress.
Blur is giving OpenSea a run for their money
Blur has gained more market share than OpenSea over the past two months and now has double the market share of OpenSea. In January, the probability of overtaking OpenSea was around 43%.
OpenSea, the former market leader, has trailed Blur in market share since December 2022, according to data from Dune Analytics.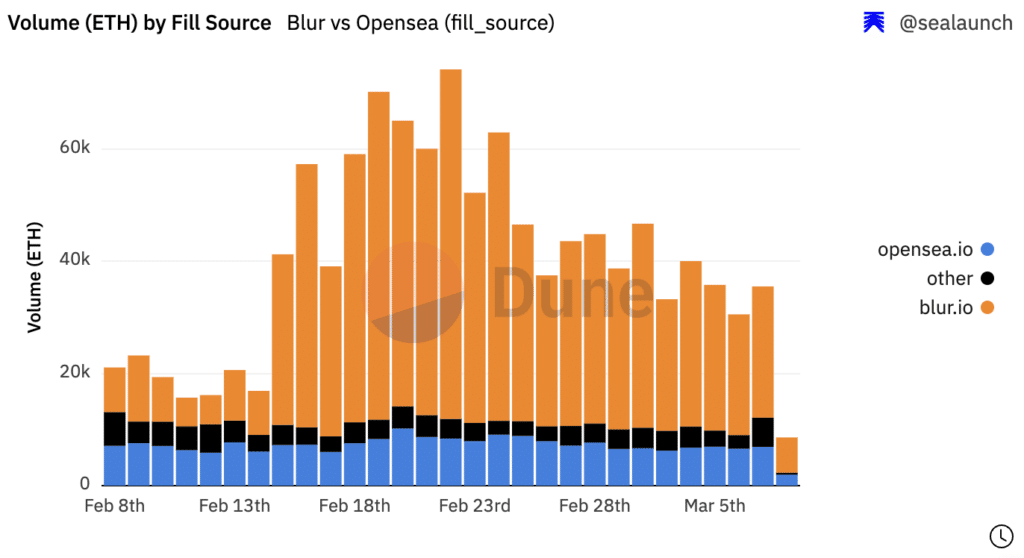 Both platforms have provided exclusive benefits to members who have blocked the other. In addition, Blur recently implemented creator royalties for non-OpenSea collections.
The overall NFT marketplace experienced a significant rise in overall transaction volume in February, reaching its highest since May 2022.
Thomas Bialek, a research analyst, describes the combination of low fees, airdrops, and token incentives as a powerful cocktail. However, according to him, whether the increase is long-lasting or solely due to Blur's rewards is still being determined.
Bialek added that the competitive NFT market war would continue to heat up in the months to come, with Blur requiring proof of the viability of its strategy and OpenSea needing to devise a successful countermove.
The NFT marketplace is highly competitive and driven by various factors, including user experience, technology, fees, and incentives. It is also subject to changing market conditions and trends.
While Blur's approach has proved successful so far, we are yet to see whether it can maintain its market share in the face of growing competition.
[ad_2]