[ad_1]

Lido Finance, a popular DeFi protocol, has paused the staking and withdrawal functionality of MATIC, the native token of Polygon, an Ethereum sidechain.
In a tweet on Mar. 6, Lido Finance said the decision was reached due to a bug affecting stMATIC withdrawals. This decision was taken out of prudence to protect user funds. 
However, to assuage fears from the broader DeFi and crypto community, the protocol assured users that all funds were safe.
The bug was pointed out earlier today and impacted large stMATIC holders who wanted to withdraw. Specifically, the error affected a user requesting a large withdrawal amount split between different nodes. Requesting stMATIC withdrawal from a single node is smoothly executed, and the user receives the correct amount of MATIC tokens.
The flaw will be corrected within the next few days. During this time, rewards accrued during downtime won't accumulate. When regular operation resumes, the protocol will automatically start distributing rewards retroactively.
Lido Finance is a decentralized liquid staking platform that supports five chains, including Ethereum and Polygon. Staking is an essential feature in public chains. It allows users to participate in network security. Special node operators called validators must stake a certain amount of coins for a chance to validate networks and earn network rewards.
Because sometimes the amount of coins the network stipulates the validator to lock might be out of reach from most retailers, Lido Finance is among the many protocols allowing ordinary users to stake coins through their nodes for a share of network rewards. 
TLV at $9.18b, ETH stake dominates
Of the five blockchain coins supported, Lido Finance supports the staking of MATIC. The equivalent amount the staker holds, representing coin staked, is a derivative version, in this case, stMATIC. 
As of March 6, Lido Finance managed $98.16 nillion of MATIC, representing roughly one percent of the total value locked (TVL) in the protocol, at $9.18b. This makes the platform the largest in DeFi by TVL.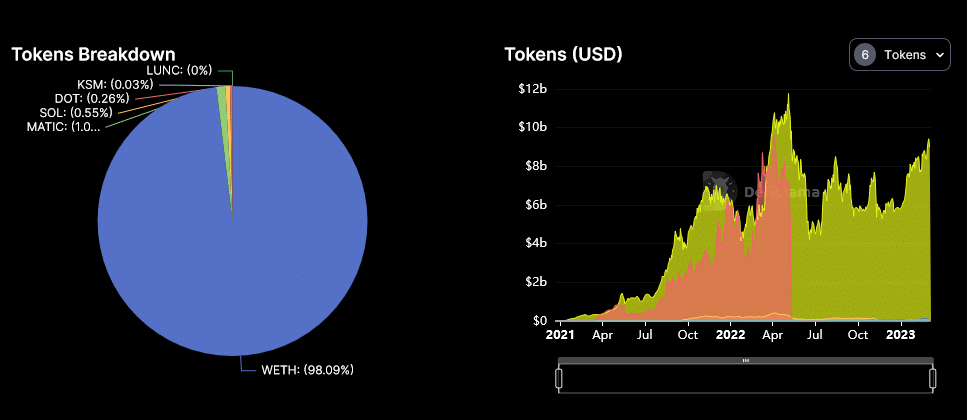 Even so, most users use Lido Finance to lock ETH, whose share of the protocol's TVL is $9.11 billion. The spike of ETH staked is ahead of the highly anticipated Shanghai-Capella upgrade scheduled in the next few weeks.
Polygon ID developers recently released four tools in a bid to enable the building of a more equitable internet where privacy will be paramount.


[ad_2]