[ad_1]

Synthetix (SNX) has dropped by 5% from its previous levels and is now trading below $3, having gained more than 15% in the last week.
At press time, SNX was trading at $2.86, according to crypto price aggregator CoinMarketCap. It had a one-day trading volume of $85.4 million, a 12.9% drop from previous levels.
However, its 15% weekly gain and 4.4% 2-week gain may raise the trust of investors who bought the coin near the end of 2022, when it was trading below $2.00.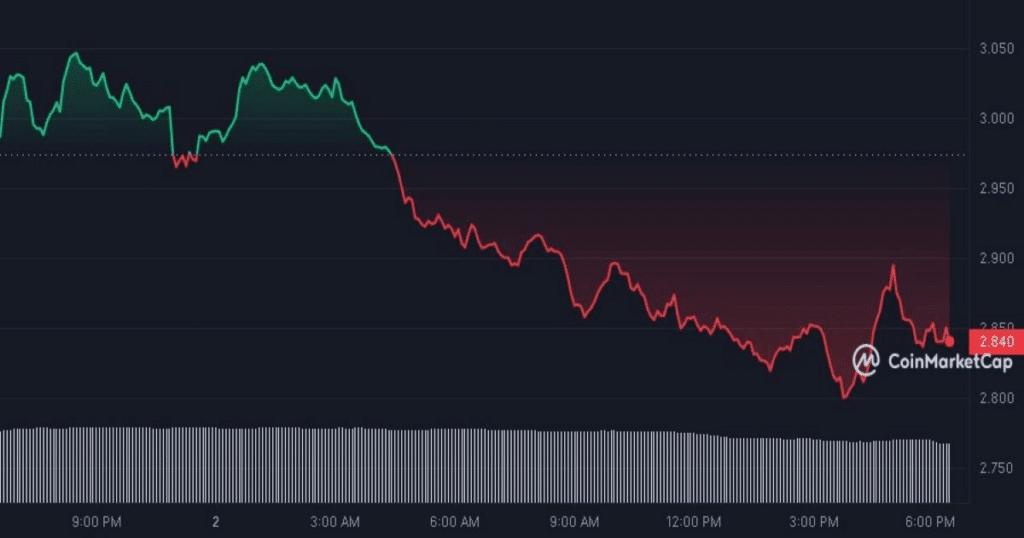 Ecosystem developments push up SNX price
The Synthetix ecosystem has had several improvements that helped SNX maintain gains in the face of bearish sentiment. For example, the token's recent price movement may have reacted to the 22 new cryptocurrency additions to the Synthetix perpetual futures market, which the Synthetix protocol launched earlier in the year.
Additionally, on Feb. 23, the network released Synthetix V3 on the Ethereum (ETH) and Optimism (OP) mainnets.
The Synthetix team regards this as a watershed moment for the network because it will improve functionality and cross-chain stablecoin transfers. Synthetix V3's primary function is to generate a securitized debt position as a dollar-pegged stablecoin that can be used in consolidated markets.
Synthetix launched the Schedar Release in the same month to burn sUSD fees and reduce staker debt.
SNX outlook
According to CoinMarketCap, the market sentiment for SNX is rising, with 83% of the crypto community optimistic about the coin.
However, SNX is currently highly volatile, with trading volume down 24% and the price down 5.6% in the last 24 hours.
Since the beginning of 2023, SNX has been steadily rising. It began trading at $1.51 on Jan. 1 and gradually increased to $2.11 two weeks later. The uptrend continued, with several dips along the way, until it climbed to $2.93 on Feb. 7 before hitting a brief downturn.
The market-wide downturn that hit crypto in February drove SNX's price down from $2.93 to $2.35 on Feb. 12.
However, the coin's price increased for three days before experiencing several days of price fluctuation from Valentine's Day to Feb. 25. At that time, SNX's trading volume also registered a sizable uptick, reflecting strong investor enthusiasm for the token.
Except for Feb. 26, when it fell 6.5%, SNX's price rose from Feb. 24-28, culminating in a high of $3.03 on Mar. 1. It even traded at $3.01 earlier today, per CoinMarketCap data, before correcting again to its current level.
Analysts suggest that following SNX's price movements over the last few days, the market should not discount the chances of bulls returning and pushing the coin's price above $3.00.


[ad_2]