[ad_1]

Eleven days after hitting its all-time high (ATH), OKB, the native coin of the OKX crypto exchange, continues to defy the general selling trend prevalent in the broader crypto market.
Per crypto price aggregator CoinMarketCap, the current price of OKB is $51.80. However, in the last seven days, the coin has gone as high as $53.50, a 12.8% increase from its lowest level in that period.
OKB among top gainers in 2023
OKB's price has been on an upward trajectory since the beginning of the year, as bulls started making tentative inroads into the broader crypto market.
The token was one of the top gainers in the last few weeks, increasing by as much as 33%. OKB is also up 99.2% from the start of the year to date and 168% over the past three months.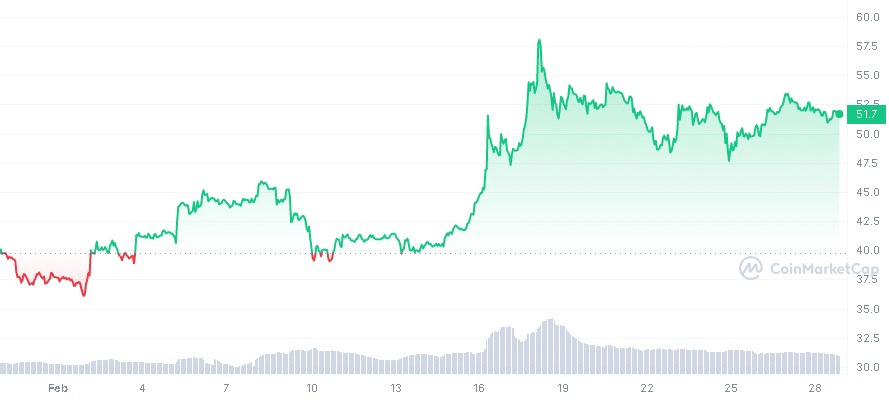 However, since Feb. 18, when OKB recorded its highest one-day trading volume of 2023 at $121.8 million, the coin has experienced a gradual downtrend in momentum.
In the previous 24 hours, OKB's market volume stood at $49,637,146, according to CoinMarketCap, and it had shed 2.27% from its last price.
Positive market performance attributed to launch of new blockchain
The token's rapid increase in value can be attributed to the launch of a new blockchain called "OKBChain." The new chain is distinct from OKB's current EVM (Ethereum Virtual Machine)-compatible protocol, OKXChain.
OKX will use the new OKBChain to develop a decentralized ecosystem that enables users to access decentralized applications (dApps), according to OKX founder Star Xu.
In January, OKB also published a proof-of-reserves (PoR) report, revealing $7.5 billion in bitcoin (BTC), ethereum (ETH), and tether (USDT).
Since the start of the year, Securities and Exchange Commission (SEC) chair Gary Gensler has advocated for more stringent regulation of crypto companies, particularly centralized exchanges like OKX.
How this trend will affect the market is yet to be seen.
[ad_2]